"Our peaches are lovely and juicy, much better than the ones you buy in the supermarket," smiles Englefield Estate's head gardener Sue Broughton, explaining that peaches and nectarines have been cultivated in the kitchen garden for a quarter-of-a-century.
"Though of course, the gardeners in charge of growing them has changed over the years," she adds.
The origin of one of the world's juiciest fruits can be traced back thousands of years to the forested slopes of North West China, and the Far East is still the biggest exporter of peaches, while closer to home the warmth of the Mediterranean means it is also a fine peach growing region.
Here in Britain, where peaches have been grown for many hundreds of years, there are varieties which, in the past, have clinched the Royal Horticultural Society's Award of Garden Merit – a seal of approval recognising plants that grow well here. Although none hold that status today, a trial of Prunus persica is pending to see if an AGM can be reinstated.
The chances are, if you buy peaches from your local supermarket, they will have been imported from hundreds or thousands of miles away, anywhere from Spain to Africa to South America, despite food miles jeopardising their taste, so while not being particularly readily available here, they have a well-earned reputation for being far tastier than their foreign counterparts.
If you have a south facing wall, like the one in the kitchen garden at Englefield House where garlands of peaches hang like baubles on a Christmas tree as mid-summer comes around, then it's possible to cultivate a juicy crop.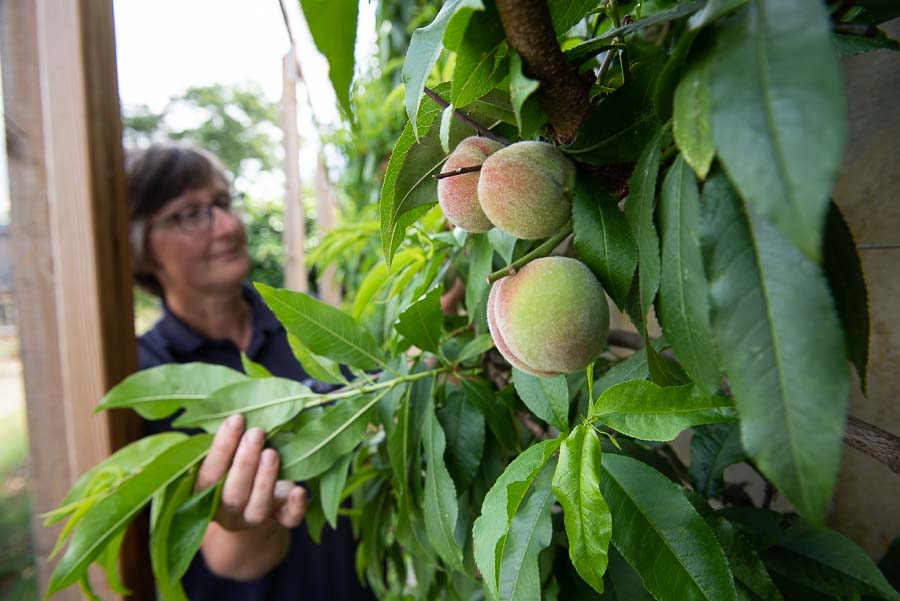 "Peaches and nectarines need warmth and somewhere sheltered," explains Sue. "Their wall in our kitchen garden provides optimal conditions because the heat reflects back late in the day, which helps the fruit to ripen. They grow very well here and we have varieties which are ripe by mid-July and others in August.
"If you have somewhere warm and can protect them from the frost, then it's possible to grow some lovely peaches," she continues. "They also make excellent peach infused vodka and peach ice cream!"
The garden's throng of summer fruits includes raspberries, plums, greengages, gooseberries, strawberries, pears, sweet cherries, sour cherries, blackcurrants, redcurrants, figs and a dozen varieties of apple. Five years ago, blueberries were introduced and two years ago apricots joined the medley.
The kitchen garden flourishes at the skilful hands of Julie Denton and Barry Newsome. Julie's areas of interest and expertise include the majority of the fruit and cut flowers, while Barry takes care of the vegetables, apples and pears, and some of the older plums.
"Julie planted the last batch of peaches, nectarines, plums and cherries so naturally took on the role of training them," says Sue. "She loves propagating the flowers and trying new things with them, as well as looking after the flower arranging for events at the house.
"Barry's been growing vegetables for many years and he planted the apples; he's a propagation expert.
"You get to know what your team's strengths are and also what people enjoy."
During harvest time, Sue's entire team will down spades, forks and rakes in the wider gardens and get involved in fruit picking within the walls of the kitchen garden.
"Growing fruit, particularly peaches and nectarines which aren't typically found in the British garden, is a skilful job, so helping out in a kitchen garden is always educational for gardeners," Sue explains.
"There are many elements to ensuring peaches thrive, for example you need to know the signs of peach leaf curl, a fungus which can hinder fruit growth, and how to prevent it.
"And peaches fruit on one-year-old wood and grow best when arranged in a fan like shape, so the fruited wood can be pruned easily, promoting new growth, and ensuring it fruits every year. A fan arrangement may look nice but it's actually a really important element of growing peaches.
"The idea is to keep the plant fruiting and to have different varieties, which gives you kudos as a grower!"
Englefield Garden is open to visitors every Monday throughout the year from 10am until 6pm, April to October, and 10am until 4pm, November to March. Entry is £5 or free for children. Click here to find out more.